On October 12, 2022, the TEXTILE AND CLOTHING BRANCH ORGANIZATION hosted the 1st FASHION INFO DAY in Bulgaria, which is organized within the CREATIVE HUB project with title "Development of a Creative Hub for offering support to fashion graduates, young artists start-ups and development mechanisms to the fashion sector of the cross-border area", financed under the cross border Cooperation Programme INTERREG V-A "Greece-Bulgaria 2014-2020".
The project is implemented in partnership with Thessaloniki Chamber of Commerce and Industry, Greece (Lead Partner), Association of the Greek Fashion Industry, Greece, Gnosi Anaptixiaki NGO, Greece and SVREMIE Association, Bulgaria, with representatives of all partners honoring the event.
The guest speaker was Mrs. Maria Onteva, designer and teacher of Industrial Arts FASHION, who in front of more than 50 participants (fashion students, young designers, representatives of companies from the textile and clothing sector, educational institutions, etc.) started the fashion day with presentation of Bulgarian designers who have contributed to world fashion and presentation of good practices and examples of sustainable fashion. There was great interest among the attendees in the presentation of so-called Innovative clothing such as temperature-regulating clothing, a smart bra, clothing with nanoparticles, etc. The program continued with an attractive presentation of world fashion trends for 2023 from the , where participants had the pleasure of getting to know the current color and fashion combinations for the new season.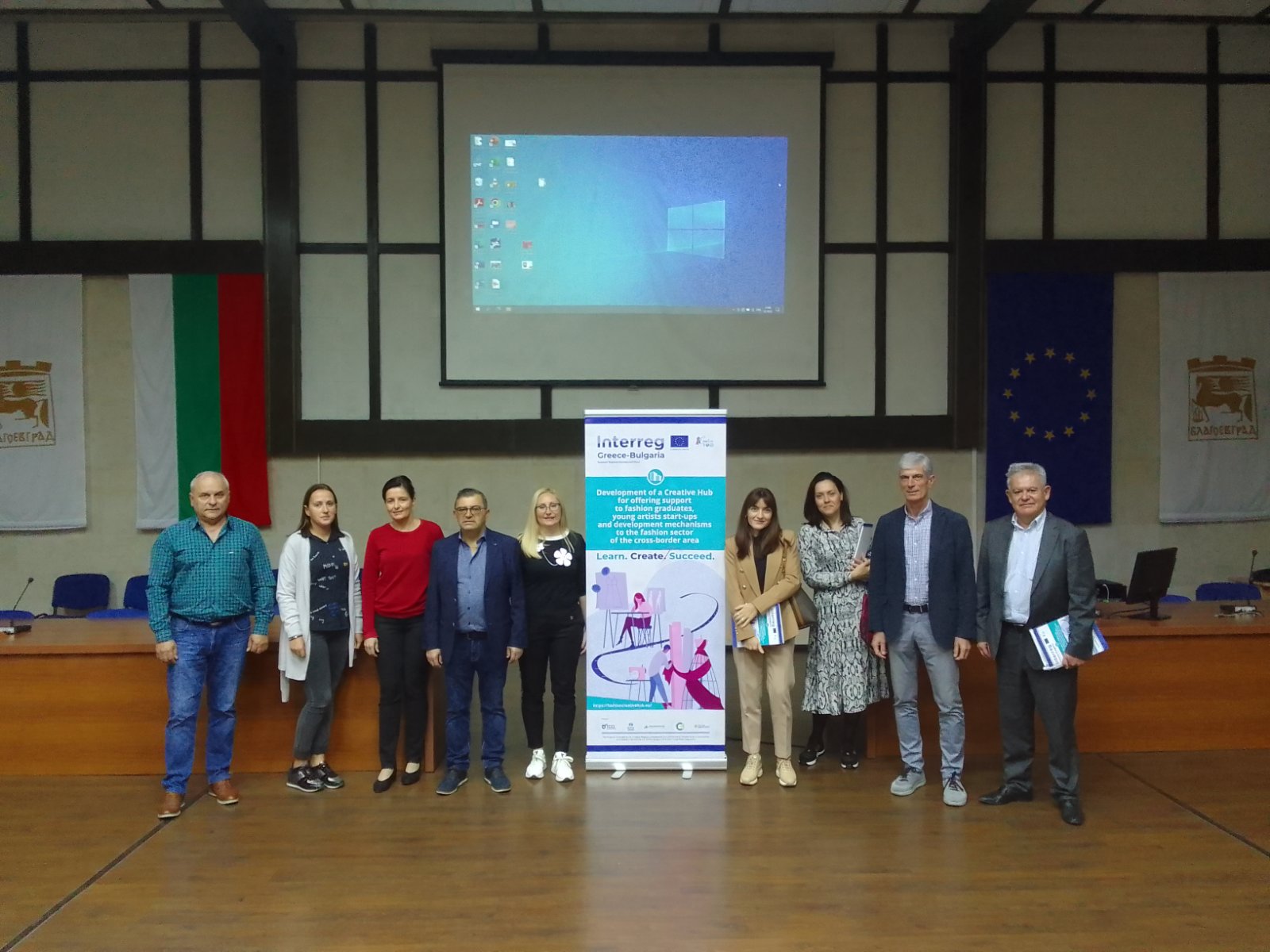 During the discussion part, Mr. Ivan Ivanov – representative of the specialized exhibition TexTailor Expo, briefly introduced the attendees to the opportunities provided by this year's edition of the exhibition. Special emphasis was placed on the aspiration of the organizers to help young people in the textile and fashion industry to gain exposure, to assert their confidence in their own strengths and skills, to become part of a big event – to be able to feel the thrill of the catwalk. In the current edition from October 27-29, 2022 pupils and students will have the opportunity to use the fashion show stage to present their sense of fashion through their own clothing designs.
Another highlight of the event was the opportunity for the students to use innovative technology for printing on fabric, through a new machine that is imported for the first time in Bulgaria and which is owned by AMKO Print, Petrich. The manager of the company, Mr. Stoine Zlatkov, presented the new technology and remained open to cooperation with anyone who wants to get acquainted with the new technique.
The fashion day ended with a cocktail/catering where discussions continued in an informal setting.